The Arizona Trail is an almost 1300-kilometre-long hiking trail that runs through the state of Arizona in the southwest of the USA. The trail begins at the Mexican border in southern Arizona and ends in the north of the state at the Utah border.
The trail passes through a diverse landscape that ranges from desert to mountains and is home to a variety of ecosystems. There are numerous breathtaking views and scenic highlights along the way, such as the Grand Canyon National Park and the red rock formations of Sedona.
How long has the AZT existed?
The AZT is still a relatively new trail. The official completion of the Arizona Trail was only in 2011, but Dale Shewalter had the idea for the trail back in the 1970s, and after hiking from Nogales to Utha himself in 1985, he travelled the state trying to convince people of his vision for the Arizona Trail.
To this day, the Arizona Trail Association, founded in 1994, works with many volunteers to maintain and improve the trail.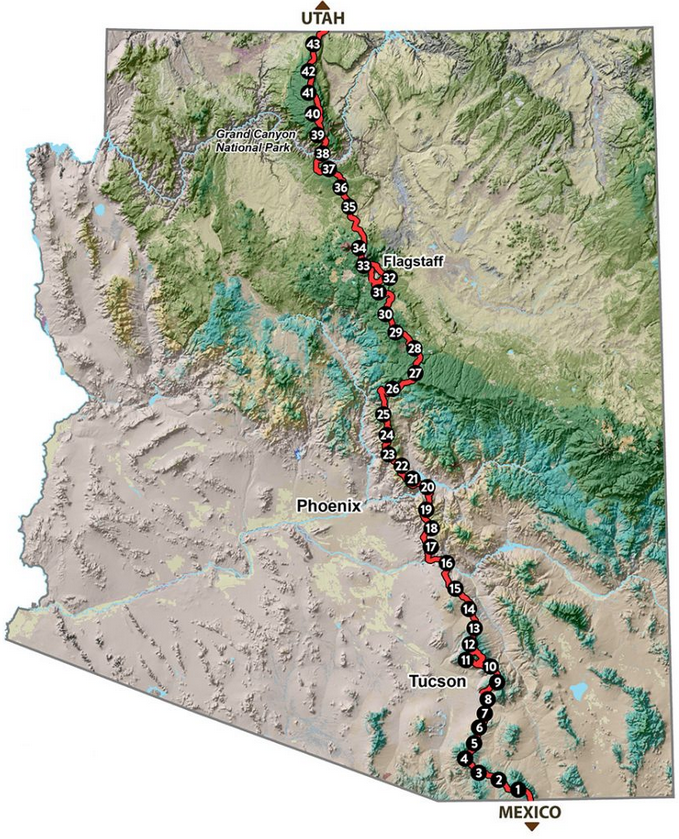 You can travel it not only on foot, but also by bicycle. Only on the stage through the Grand Canyon is no bike allowed to touch the ground, so you have to carry your bike. The best time to travel the Arizona Trail is spring and autumn.
The average travel time for a complete hike is 6-8 weeks. My time frame is from 31 March to 17 May. I hope to complete the hike in that time, or at least a good chunk of it. This way if you want to know more about my planning.