Day 4: Today was a very short day, I only had to hike a few miles to the road. From there I hitched a ride. it must have taken 20 minutes before someone gave me a lift and took me directly to my destination, the Stage Stop Inn in Patagonia. Check-in is unfortunately only possible from 11 a.m., now it's just 8 a.m….. Behind the counter I could already see my bag, which was delivered here by American Airlines.

I used the time to explore the city and do some shopping. There are many small shops, restaurants, cafes here and everything has a small-town charm. I immediately thought of Idylwild on the PCT in California. At Red Mountain Foods you can only pay cash, but they had vegan ice cream and fruit!
Shopping and eating in Patagonia
I also met the hikers Bonny and Clyde and we decided to share my hotel room. After checking in, we were busy until 5pm doing laundry and getting everything we would need for the next part of the Arizona Trail. Then we had to send the packages to the various stations, which I unfortunately couldn't do at the beginning because my bag was delivered late.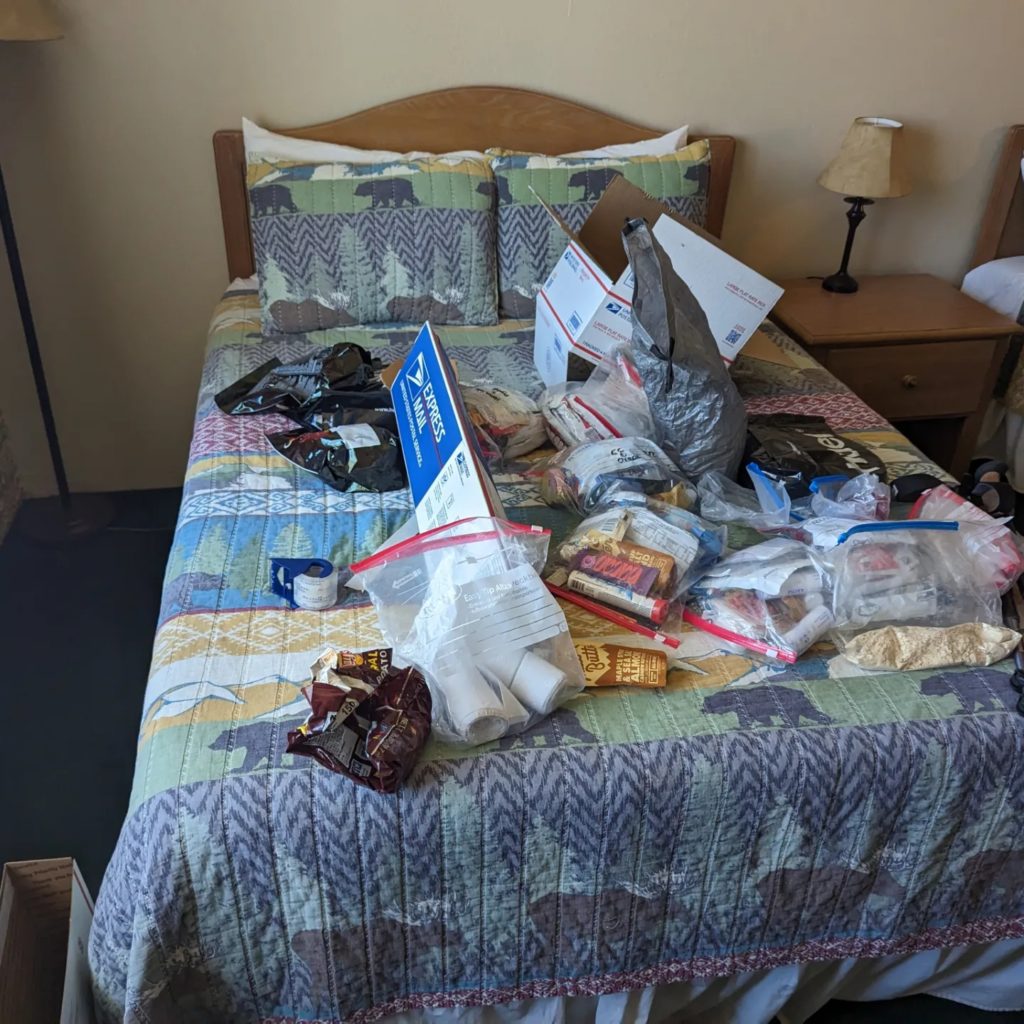 Then the hole in my sleeping pad had to be found and patched. Finally, the Hikerbox in the hotel was rummaged through. Fortunately, everything worked out well and so we went for dinner afterwards and then for a drink at the Wagon Wheel Salon.
Day 5: Despite, or perhaps because of, the damp night, we were up early again the next morning. A few errands had to be done and of course we had a delicious breakfast before hitchhiking back to the trail.

There I met another hiker, the poor guy had walked the old Arizona Trail and then turned onto the new bypass. So he almost ended up back in Patagonia, or at least on the road there. I was able to explain his mistake and we hiked together for a while in the direction he had come from, on the trail bath of the Tempural Gulch Trail. There was a sweet little river here where I took a short lunch break after 16 km.

Today it was only going to be 26 km on the Arzizona Trail